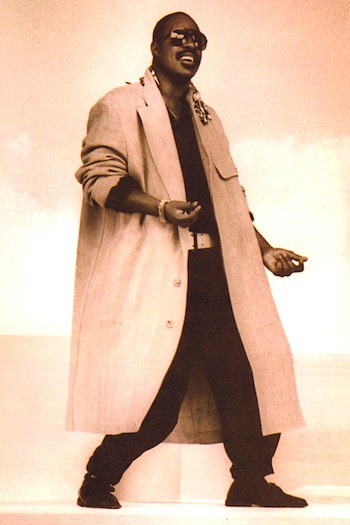 At TrueColorsRadio sings:
1.
For Your Love
130
5
Lapshin
2.
Isn't She Lovely
127
4
DeeDee
3.
That's What Friends Are For
116
5
Nadya_Zhe
4.
Part-Time Lover
115
3
Shipiloff
5.
Send One Your Love
104
32
Lapshin
6.
My Cherie Amour
98
5
Natali
7.
Pops, We Love You
68
17
Shipiloff
8.
You Are The Sunshine Of My Life
59
9
Nadya_Zhe
9.
Free
58
2
Original name
Stevland Hardaway Morris/Judkins
Date of birth
13.05.1950
(72)
Place of birth
Saginaw, Michigan
Total songs:
9
Likes:
875
Dislikes:
82
Awards
Won 25 Grammy Awards: as well as a Grammy Lifetime Achievement Award which he was presented in 1996.
1983: inducted to the Songwriters Hall of Fame.
1989: inducted to the Rock and Roll Hall of Fame.
2002: received the George and Ira Gershwin Lifetime Achievement Award at UCLA's Spring Sing. The same year, Wonder received the Sammy Cahn Lifetime Achievement Award from the Songwriters Hall of Fame.

Stevie Wonder was the third of six children to Calvin Judkins and Lula Mae Hardaway. Owing to his being born six weeks premature, the blood vessels at the back of his eyes had not yet reached the front and their aborted growth caused the retinas to detach. The medical term for this condition is retinopathy of prematurity, or ROP, and it was exacerbated by the oxygen therapy given while in his hospital incubator. When Stevie was four, his mother left his father and moved to Detroit with her children. She changed her name back to Lula Hardaway and later changed her son's surname to Morris, partly because of relatives. Morris has remained Stevie Wonder's legal surname ever since. He began playing instruments at an early age, including piano, harmonica, drums and bass. During childhood he was active in his church choir.


Ronnie White of The Miracles gives credit to his brother Gerald White for persistently nagging him to come to his friend's house in 1961 to check out Stevie Wonder. Before signing, producer Clarence Paul gave Wonder his trademark name after stating "we can't keep calling him the eighth wonder of the world". By age 13, Wonder had a major hit, "Fingertips". The song, featuring Wonder on vocals, bongos, and harmonica, and a young Marvin Gaye on drums, was a No. 1 hit on the Billboard Hot 100 and R&B charts, making him the youngest artist to top the former in its history and launching him into the public consciousness. Dropping the "Little" from his name, Wonder went on to have a number of other hits during the mid-1960s, including "Uptight (Everything's Alright)", "With a Child's Heart", and "Blowin' in the Wind", a Bob Dylan cover, co-sung by his mentor, producer Clarence Paul.
In September 1970, at the age of 20, Wonder married Syreeta Wright, a songwriter and former Motown secretary. Wright and Wonder co-wrote the songs on the next album, Where I'm Coming From, which did not succeed in the charts. Reaching his twenty-first birthday on May 13, 1971, he allowed his Motown contract to expire.
Wonder independently recorded two albums, which he used as a bargaining tool while negotiating with Motown. Eventually the label agreed to his demands for full creative control and the rights to his own songs. Wonder returned to Motown in March 1972 with Music of My Mind. Unlike most previous albums on Motown, which usually consisted of a collection of singles, B-sides and covers, Music of My Mind was a full-length artistic statement with songs flowing together thematically. Wonder's lyrics dealt with social, political, and mystical themes as well as standard romantic ones, while musically Wonder began exploring overdubbing and recording most of the instrumental parts himself.

On August 6, 1973, Wonder was in a serious automobile accident while on tour in North Carolina, when a car in which he was riding hit the back of a truck. This left him in a coma for four days and resulted in a partial loss of his sense of smell and a temporary loss of sense of taste. Despite the setback, Wonder re-appeared in concert at Madison Square Garden in March 1974 with a performance that highlighted both up-tempo material and long, building improvisations on mid-tempo songs such as "Living for the City".
It was in Wonder's next phase that he began to commercially reap the rewards of his legendary classic period. The 1980s saw Wonder scoring his biggest hits and reaching an unprecedented level of fame evidenced by increased album sales, charity participation, high-profile collaborations, political impact, and television appearances. By 1985, Stevie Wonder was an American icon, the subject of good-humored jokes about blindness and affectionately impersonated by Eddie Murphy on Saturday Night Live. Wonder sometimes joined in the jokes himself such as in The Motown Revue with Smokey Robinson. He was in a featured duet with Bruce Springsteen on the all-star charity single for African Famine Relief, "We Are the World", and he was part of another charity single the following year (1986), the AIDS-inspired "That's What Friends Are For".
Wonder's songs are renowned for being quite difficult to sing. He has a very developed sense of harmony and uses many extended chords utilizing extensions such as ninths, elevenths, thirteenths, diminished fifths, etc. in his compositions. Many of his melodies make abrupt, unpredictable changes. Many of his vocal melodies are also melismatic, meaning that a syllable is sung over several notes.
The note prepared by
Darya Denisova