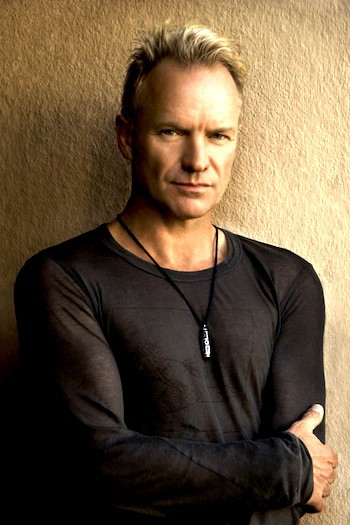 At TrueColorsRadio sings:
1.
It's Probably Me
106
10
2.
Englishman In New York
105
5
3.
Little Wing
101
7
4.
Stolen Car (Take Me Dancing)
96
3
Mik3
5.
Every Breath You Take
95
3
6.
Fields Of Gold
81
1
7.
When We Dance
76
8
8.
Mad About You
69
9
Original name
Gordon Matthew Thomas Sumner
Date of birth
02.10.1951
(71)
Place of birth
Wallsend, North Tyneside, England
Total songs:
8
Likes:
729
Dislikes:
46
Awards
16 Grammy Awards
3 Brit Awards:
- Best British Male
- Golden Globe
- Emmy Award

Sting is the eldest of four children born to Audrey , a hairdresser, and Ernest Matthew Sumner, a milkman and engineer. Young Gordon would often assist his father with the early-morning milk-delivery rounds, and by age 10 he became "obsessed" with an old Spanish guitar that had been left behind by an emigrating friend of his father.
Sting performed in jazz bands on evenings, weekends, and during breaks from college and from teaching. He played with local jazz bands such as the Phoenix Jazzmen, the Newcastle Big Band, and Last Exit.
He gained his nickname after he performed wearing a black and yellow sweater with hooped stripes while onstage with the Phoenix Jazzmen. Bandleader Gordon Solomon thought that the sweater made him look like a bee, which prompted the nickname "Sting".


In 1977, Sting moved from Newcastle to London, and soon thereafter he joined Stewart Copeland and Henry Padovani (who was soon replaced by Andy Summers) to form the New Wave band The Police. Between 1978 and 1983, they released five chart-topping albums and won six Grammy Awards. Although their initial sound was punk inspired, The Police soon switched to reggae-tinged rock and minimalist pop.
Their last album, Synchronicity, which included their most successful song, "Every Breath You Take", was released in 1983. According to Sting, who appeared in the documentary Last Play at Shea, he decided to leave The Police while onstage during the 18 August 1983 concert at Shea Stadium because he felt that playing that venue was "Everest".

Sting began a career as a solo artist, scoring a hit album with his first post-Police effort, The Dream of the Blue Turtles, released in 1985. On the recording, he worked with several jazz musicians, including Bradford Marsalis. Sting went on to release a string of successful solo albums, including Nothing Like the Sun (1987), The Soul Cages (1991), Ten Summoner's Tales (1993) and Mercury Falling (1996). During this period, Sting wrote and recorded a diverse range of music, from haunting ballads to intriguing instrumental pieces to upbeat popular songs. He found chart success with such singles as "Englishman in New York," "If I Ever Lose My Faith in You" and "Fields of Gold."

In addition to his musical career, Sting has been active in human rights and other social issues. He and his wife, Trudie Styler, have been married since 1992. The couple has four children. Sting also has two other children from his first marriage.
The note prepared by
Nadya Zhebina