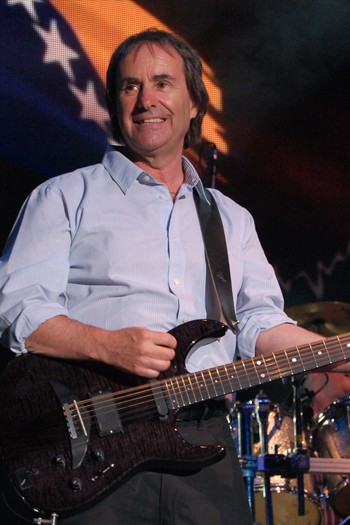 At TrueColorsRadio sings:
1.
The Lady In Red
181
1
AVG
2.
Missing You
140
3
3.
Sailing Away
121
2
Original name
Christopher John Davison
Date of birth
15.10.1948
(73)
Place of birth
Venado Tuerto, Santa Fe Province, Argentina
Total songs:
3
Likes:
442
Dislikes:
6
Awards
• His 17 studio albums broke up a total circulation of 45 million copies
• Song Lady In Red six times received the award of the American Association of Composers and Publishers as one of the 20 most played songs on American radio.
• In 1999 he was awarded the international award "Nordoff - Robbins Music Therapy International Award" for his achievements in music and charity.

De Burgh was born to Colonel Charles Davison, a British diplomat, and Maeve Emily de Burgh, an Irish secretary. He took his mother's name, "de Burgh", when he began performing. Due to his father's career interests Chris spent much of his early years in Malta, Nigeria and Zaire. When he was 6 the family moved to Ireland to a XII century castle bought by his grandfather. The castle was redesigned into a hotel and Chris sang for the guests there.


Chris de Burgh signed his first contract with A&M Records as he was 26. His debut album, "Far Beyond These Castle Walls", was a folk-tinged stab at fantasy in the tradition of the Moody Blues, and failed to chart. However, the single «Turning Around» from the album stayed on top of the Brazilian charts 17 weeks. The same scenario took place with all his 70s albums and singles - not having success in the UK and the US, they blew up the charts of European and Latin American countries.

This success came with the single "Lady in Red" in 1986. The song and the album "Into The Light" came to the top of the UK charts and USA. That success Chris has not yet repeated. Largely because of the inaction of his record label, the audience soon began to forget about Chris.

In 1997 De Burgh wrote the song "There's a New Star Up in Heaven Tonight", dedicated to Princess Diana. The single was released in a limited edition of 100 copies.

Chris De Burgh is married and has three children - daughter Rosana and two sons Hubie and Michael . Rosana received the title of "Miss World " in 2003. The sons went to his father's footsteps, they play guitar and piano.