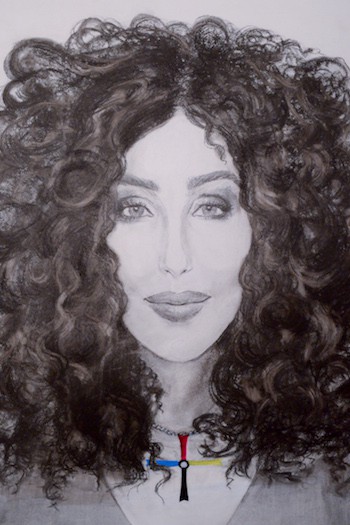 At TrueColorsRadio sings:
1.
Take Me Home
68
16
Gritsouk
2.
Walking in Memphis
53
5
3.
The Shoop Shoop Song
41
5
4.
If I Could Turn Back Time
34
2
Shipiloff
Original name
Cherilyn Sarkisian
Date of birth
20.05.1946
(76)
Place of birth
El Centro, California, U.S.
Total songs:
4
Likes:
196
Dislikes:
28
Awards
Cher has won many awards in television, film and music. These include an Academy Award, a Grammy, an Emmy, three Golden Globes, and a star on the Hollywood Walk of Fame.

Cher became prominent in 1965 as one-half of the folk rock husband–wife duo Sonny & Cher , who popularized a particular smooth sound that successfully competed with the dominant British Invasion and Motown sounds of the era.

From 1965, she had established herself as a solo artist with successful singles such as " Bang Bang (My Baby Shot Me Down) ", " Gypsys, Tramps & Thieves ", " Half-Breed ", and " Dark Lady ", songs that deal with subjects rarely addressed in American popular music.
Goldmine magazine's Phill Marder described her as the leader of an effort in the 1960s to "advance feminine rebellion in the rock world [and] the prototype of the female rock star, setting the standard for appearance [and] attitude". After the duo's drug-free lifestyle had lost its popular appeal in the United States owing to the drug culture of the 1960s , she returned to stardom in the 1970s as a television personality with her shows The Sonny & Cher Comedy Hour and Cher , both of which attained immense popularity.
She became a fashion trendsetter with her daring outfits.
After Cher and Sonny divorced in 1975, Cher experimented with various musical styles, including disco and new wave , before becoming a successful live act in Las Vegas.

In the early 1980s, Cher made her Broadway debut and starred in the film Silkwood , which earned her a nomination for the Academy Award for Best Supporting Actress in 1983.
In the following years, she starred in films such as Mask , The Witches of Eastwick , and Moonstruck , for which she won the Academy Award for Best Actress in 1988.


Cher is dyslexic, which went undiagnosed in school and led to lots of report cards stating that she was not living up to her potential. She had to learn by listening rather than reading.

Cher had an on-off relationship with Gregg Allman starting in 1975 and divorcing in 1979. Their union resulted in one album, the punningly titled, Allman and Woman: Two The Hard Way. By the late '70s, she became a regular fixture in gossip columns and fashion magazines which lauded over her sartorial outrageousness and much publicized musical and personal relationships with Allman, Gene Simmons (of KISS) and Les Dudek. She was also associated with Tom Cruise, Val Kilmer, Richie Sambora, and Warren Beatty.

She has a son with Greg Allman named Elijah Blue Allman. She also has a daughter with Sonny Bono named Chastity Bono.


The note prepared by
Anna Votinova