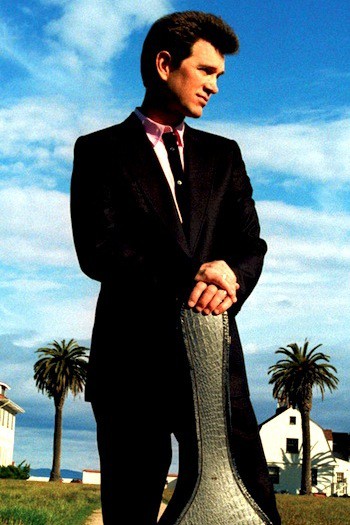 At TrueColorsRadio sings:
1.
Wicked Game
192
10
AVG
2.
Can't Do a Thing (To Stop Me)
140
9
Gritsouk
3.
Back On Your Side
100
0
4.
Blue hotel
83
5
Gritsouk
5.
Lie To Me
70
0
Shipiloff
6.
Talk To Me
54
8
7.
Black Flowers
29
4
ColorkoVA
8.
Somebody's Crying
22
2
ColorkoVA
Original name
Christopher Joseph Isaak
Date of birth
26.06.1956
(66)
Place of birth
Stockton, California, USA
Total songs:
8
Likes:
690
Dislikes:
38
Awards
1991 MTV Video Music Awards:
Best Cinematography
Best Video from a Film
Best Male Video
2004 ASCAP Film and Television Music Award category Most Performed Themes

The son of Dorothy (nee Vignolo), a potato chip factory worker, and Joe Isaak (1929–2012), a forklift driver. Isaak's mother is Italian American, originating from Genoa. His father was German American.
Graduated University of the Pacific, B.A. in 1980. In 1981 formed his band Silvertone with James Calvin Wilsey (guitar), Kenney Dale Johnson (drums), and Rowland Salley (bass).


Isaak was ranked #68 on VH1's 100 Sexiest Artists.
Isaak revealed in a 2002 interview with Acoustic Guitar that he uses a one-of-a-kind Gibson: For my electric, I've got a one-off Gibson version of a Gretsch 6120, a sort of Chet Atkins thing. They made one of these things and gave it to me to see if I liked it, and I liked it so much I've been playing it ever since. People told me they thought it was a White Falcon, but it's not. It's just a white Gibson. I don't think they ever manufactured any of the things. They strung up this one prototype, scratched their heads, and said, 'Huh. Give it to Isaak.'
Isaak also plays a Gibson J-200 acoustic guitar, which he uses for songwriting.

Isaak starred in The Chris Isaak Show (2001–2004) playing himself and featuring actual members of his band along with numerous celebrity guests.

The Biography Channel aired The Chris Isaak Hour, a one-hour music interview and performance show in 2009. The series premiere featured Trisha Yearwood, and included the first ever performance of "Breaking Apart", a duet from Isaak's new album, Mr. Lucky. Additional guests included Stevie Nicks, Smashing Pumpkins, Chicago, Glen Campbell, Michael Bublé, Yusuf Islam (formerly Cat Stevens), and Jewel.
The note prepared by
Alexandre Gritsouk