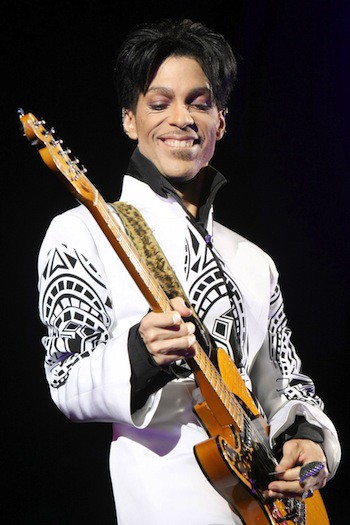 At TrueColorsRadio sings:
1.
Purple Rain
177
9
2.
A Million Days
109
51
Lapshin
3.
Te Amo Corazon
90
10
Lapshin
4.
The Most Beautiful Girl In The World
61
6
5.
Cream
53
1
Nadya_Zhe
6.
Money Don't Matter 2 Night
35
6
Gritsouk
Original name
Prince Rogers Nelson
Date of birth
07.06.1958
(59)
Place of birth
Minneapolis, Minnesota, US
Total songs:
6
Likes:
525
Dislikes:
83

He was born to John L. Nelson and Mattie Shaw, though his roots are centered in Louisiana with all four of his grandparents hailing from the state. Prince's father was a pianist and songwriter and his mother was a jazz singer. Prince was named after his father, whose stage name was Prince Rogers, and who performed with a jazz group called the Prince Rogers Trio. In a 1991 interview with A Current Affair, Prince's father said, "I named my son Prince because I wanted him to do everything I wanted to do." Prince's childhood nickname was Skipper.
In a PBS interview Prince told Tavis Smiley that he was "born epileptic" and "used to have seizures" when he was young. During the interview Prince also said that "my mother told me one day I walked in to her and said, 'Mom, I'm not going to be sick anymore,' and she said 'Why?' and I said 'Because an angel told me so.' "
Prince's sister Tika Evene (usually called Tyka) was born in 1960. Both siblings developed a keen interest in music, and this was encouraged by their father. Prince wrote his first tune, "Funk Machine" on his father's piano when he was seven. Prince's parents then separated when Prince was ten years old. Following their separation, Prince constantly switched homes: sometimes he lived with his father, and sometimes with his stepfather.


In 1976, Prince created a demo tape with producer Chris Moon in Moon's Minneapolis studio. Unable to secure a recording contract, Moon brought the tape to Minneapolis businessman Owen Husney. Husney signed Prince, at the age of 17, to a management contract and helped Prince create a demo recording at Sound 80 Studios in Minneapolis using producer/engineer David Z. The demo recording, along with a press kit produced at Husney's ad agency, resulted in interest from several record companies. With the help of Husney, Prince signed a recording contract with Warner Bros. Husney and Prince then left Minneapolis and moved to Sausalito, California where Prince's first album, For You, was recorded at Record Plant Studios.

Prince's 1984 album Purple Rain sold more than thirteen million copies in the U.S. and spent twenty-four consecutive weeks at No.1 on the Billboard 200 chart. The film of the same name won an Academy Award and grossed more than $80 million in the U.S. Songs from the film were hits on pop charts around the world, while "When Doves Cry" and "Let's Go Crazy" reached No.1 and the title track reached No.2 on the Billboard Hot 100. At one point in 1984, Prince simultaneously had the number one album, single, and film in the U.S.; it was the first time a singer had achieved this feat.

Over the years Prince has been romantically linked with many celebrities, including Kim Basinger, Madonna, Vanity, Sheila E., Carmen Electra, Susanna Hoffs, Anna Fantastic, Sherilyn Fenn, and Susan Moonsie of Vanity 6 and Apollonia 6.
Prince was engaged to Susannah Melvoin in 1985.
He married his backup singer and dancer, Mayte Garcia, on Valentine's Day, 1996. They had a son, Boy Gregory, who was born with Pfeiffer syndrome and died a week after birth. Prince and Mayte divorced in 1999. In 2001, Prince married Manuela Testolini in a private ceremony. Testolini filed for divorce in May 2006.

Prince is a vegetarian. In 2006 he was voted the "world's sexiest vegetarian" in PETA's annual online poll. The liner notes for his album Rave Un2 the Joy Fantastic featured a message about the cruelty involved in wool production.
Since 2008, Prince has been managed by UK based Kiran Sharma owner of Kikit Entertainment.

Prince is a supporter of the Minneapolis football team Minnesota Vikings. He resides near Minneapolis, Minnesota and is considering buying a home in France.
The note prepared by
Alexandre Gritsouk
Registered members have access to the following functionality:
1. Detailed view of recommendations 
2. Full track listing
3. Song list with Dislike toggles
4. Emulation of display of any track from the list
5. List of recently deleted tracks
6. Addition of comments to a track
7. Addition of lyrics to a track