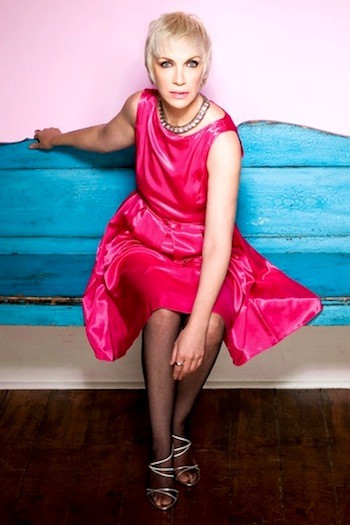 At TrueColorsRadio sings:
1.
The Miracle Of Love
201
5
AVG
2.
Step By Step
166
4
Gritsouk
3.
Here Comes The Rain Again
163
4
4.
There Must Be An Angel (Playing With My Heart)
152
5
5.
Walking On Broken Glass
151
6
AVG
6.
When Tomorrow Comes
99
2
7.
Why
93
1
DeeDee
8.
Don't Ask Me Why
56
3
9.
Angel
41
3
Original name
Annie Lennox
Date of birth
25.12.1954
(67)
Place of birth
Summerfield, Aberdeen
Total songs:
9
Likes:
1122
Dislikes:
33
Awards
Order of the British Empire
8 Brit Awards
4 Grammy Awards
Oscar Award
Golden Globe Award
MTV Video Music Award
Billboard Century Award

Lennox was born on Christmas Day, her father worked at the shipyard, and her mother was a cook until she became a housewife. Lennox was an only child and the family lived in a small two-roomed apartment in a tenement with communal laundry facilities. Despite her family's financial status, Lennox had piano lessons at school from the age of seven years at the cost of £4.00 per term. She was interested in singing and, with plenty of time to herself, passed some of the time by singing along to the popular music of the time, including music by The Beatles. She was an unhappy teenager, partly because of a struggle over boundaries for her independence with her overprotective father.
In the 1970s, Lennox won a place at the Royal Academy of Music in London, where she studied the flute and classical music for three years. She lived on a student grant and worked at part-time jobs for extra money. Lennox was unhappy during her time at the Royal Academy partly because she was lonely and shy, and she missed many history-of-music lessons.

In 1976, Lennox was flautist with a band called Dragon's Playground. Between 1977 and 1980, she was the lead singer of The Tourists , a moderately successful British pop band and her first collaboration with Dave Stewart. During the time they were in The Tourists, Stewart and Lennox were involved in a relationship, though this had ended by the time they formed Eurythmics. Lennox and Stewart's second collaboration, the 1980s synthpop duo Eurythmics, resulted in her most notable fame.
Though Eurythmics never officially disbanded, Lennox made a fairly clear break from Stewart in 1990. Thereafter, she began a long and equally-successful solo career.Lennox has received eight BRIT Awards, the most of any female artist. Four of the awards were given during her time with Eurythmics, and another was given to the duo for Outstanding Contribution to Music in 1999.


Lennox has garnered a significant following within the LGBT community. According to The Advocate, "her distinctive voice and provocative stage persona have made Lennox a longtime gay icon." With Eurythmics' music videos earning regular rotation on MTV in the 1980s, Lennox took part in the shaping of popular culture alongside other gay icons such as Boy George, Madonna, Morrissey, and Michael Stipe.

In 2004, Lennox won the Academy Award for Best Song for "Into the West" from the film The Lord of the Rings: The Return of the King.

Her first marriage, from 1984 to 1985, was to a German Hare Krishna devotee Radha Raman. From 1988 to 2000, she was married to Israeli film and record producer Uri Fruchtmann. They have two daughters, Lola (born 1990), and Tali (born 1993), who models for fashion chain Karen Millen. A son, Daniel, was stillborn in December 1988. On 15 September 2012, Lennox married South African gynaecologist Dr Mitch Besser, in London, in a private ceremony. Guests included Colin Firth and Ruby Wax. Lennox met Besser, who has two teenage sons, in 2009 after becoming involved in his charity mothers2mothers which helps children and single mothers with AIDS.
The note prepared by
Darya Denisova