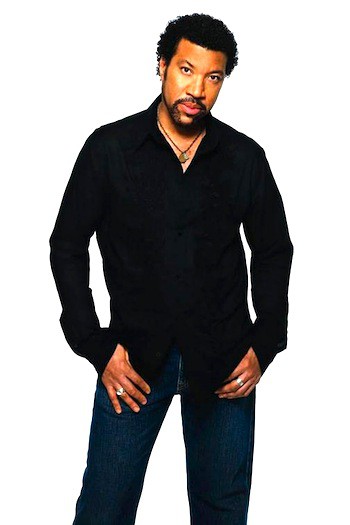 At TrueColorsRadio sings:
1.
How Long
170
13
2.
Do It To Me
148
7
3.
Penny Lover
130
6
4.
Love Will Conquer All
115
6
Gritsouk
5.
Easy
115
3
6.
Stuck on You
112
2
Shipiloff
7.
All Night Long
82
12
8.
You Are
81
4
9.
Running With The Night
59
12
Original name
Lionel Brockman Richie, Jr
Date of birth
20.06.1949
(73)
Place of birth
Tuskegee, Alabama, USA
Total songs:
9
Likes:
1012
Dislikes:
65
Awards
13 American Musc Awards
5 Grammy Awards
Golden Globe Award
George and Ira Gershwin Lifetime Achievement Award
"Say You Say Me":
Oscar Award
Academy Award for Best Original Song
Golden Globe Award for Best Original Song

Richie is the son of Alberta R. (Foster) and Lionel Brockman Richie. Richie grew up on the campus of Tuskegee Institute.His grandfather's house was across the street from the home of the president of the college. His family moved to Joliet, Illinois, where he graduated from Joliet Township High School, East Campus. A star tennis player in Joliet, he accepted a tennis scholarship to attend Tuskegee Institute, and graduated with a major in economics. After receiving his undergraduate degree from Tuskegee, Richie briefly attended graduate school at Auburn University.
As a student in Tuskegee, Richie formed a succession of R&B groups in the mid-1960s. In 1968 he became a singer and saxophonist with the Commodores.The Commodores then became established as a popular soul group. Their first several albums had a danceable, funky sound, over time, Richie wrote and sang more romantic, easy-listening ballads such as "Easy," "Three Times a Lady," "Still," and the tragic breakup ballad "Sail On."
Richie's 1982 self-titled debut contained three hit singles: song "Truly", which launched his career as one of the most successful balladeers of the 1980s, and the Top Five hits "You Are" and "My Love." The album hit #3 on the music charts and sold over 4 million copies. His 1983 follow-up album, Can't Slow Down, sold over twice as many copies and won two Grammy Awards, including Album of the Year, propelling him into the first rank of international superstars.


On October 18, 1975, Richie married his college sweetheart, Brenda Harvey. In 1986, while still married to Harvey, Lionel began a relationship with Diane Alexander. He would later separate from Harvey and in 1988, she allegedly discovered Richie and Alexander together in a Beverly Hills hotel room by saying she was "room service" and breaking in the door. A confrontation ensued and Harvey attacked both Richie and Alexander brutally. Harvey was arrested for spousal abuse, trespassing, assault towards Alexander, and vandalism. Richie and Harvey divorced on August 9, 1993, after being married nearly 18 years.

In 1983 Lionel Richie and his wife, Brenda Harvey, informally adopted Nicole Camille Escovedo, the two-year-old daughter of one of the members of Lionel's band. They raised her as their daughter, Nicole Richie, and adopted her legally when she was nine years old.
On May 2, 2008, Lionel Richie was the 21st recipient of the George and Ira Gershwin Lifetime Achievement Award at UCLA's annual Spring Sing. In accepting the award, Richie said: "Forget about surviving 30 some odd years in the music business, Lionel Richie survived 27 years of Nicole Richie."
The note prepared by
Darya Denisova